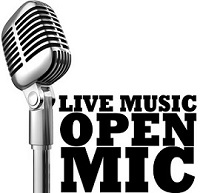 OPEN MIC MONDAY: 8pm – 11pm
Hosted by Garrett Lane
Welcome to Monday Open Mic
Sign Up Starts ——-@—– 8:00PM
Deals—–$—–Deals—–$—-$3.00 Drafts—-$—–Deals—–$—-Deals
!!!!FREE RECORDING!!!!
Like the Page for Live Updates
https://www.facebook.com/MondayNightOpenMicAtTheStore
The Store"s Monday Open Mic with Garrett Lane your host. https://www.facebook.com/TheStoreSundayOpenMicWithGarrettLaneYourHost This is a little sample of the outcome one may expect from the free CD you walk away with when you play THE STORE on a Monday from 8pm -11pm! https://soundcloud.com/jonathan-fell/back-to-good- Thanks so much Jon for the post! Your new Monday open mic host, Garrett Lane, was delighted with the maiden voyage! Just the right amount of attendees to make it enjoyable for everyone and disappointing to no one! At the end of the day we made 23 cd"s for the players that showed up! Let"s just hope they reflect how good they sounded to the people in the room. Special thanks to the ownership and staff, especially Kevin and Brad, for their accommodating spirit and great room and equipment. We"ll see you each and every Monday for this newest addition to the Chicago open mic scene at 8 pm!!!!!
***
The Store"s Open Mic Turned 12 in May 2016! Thanks to Rick and everyone for their support! Since May, 2004, Monday nights at The Store has become one of Chicago's well kept secrets. Starting at 9 pm every Monday night, Garrett Lane hosts one of Chicago's best Open Mics. The newly lounged up back room offers the perfect atmosphere in addition to providing beautiful sound. No restrictions here with a 12 channel mixing board heard thru powered Mackie speakers. Sticking to an acoustic format, each musician that signs up gets 3 songs or 15 minutes to perform. Two minutes after your set you will be handed a CD containing your performance recorded right from the soundboard……for FREE!  What else could make it better? $3.00 Pints! Choose from any of the 10 beers we have on tap. A deal that's hard to beat. Founded by Rick and Kevin during many broken conversations across the bar, Open Mic instantly became a success. Spread mostly by word of mouth, a family has been created and is constantly growing because once you come, you'll be back. Resulting in many new friendships, connections, possibilities and many priceless moments. Towards the end of the night you may find musicians playing together, many for the first time. Covering songs, sharing originals and creating tons of great improv. A direct result from the biggest motivation to start Open Mic in the first place. Bring good people and musicians together. You also never know who might stop by. Our Open Mic attendee hall of fame includes Brendan, Joel, Jake and Andy from Umphrey's McGee, Marco Benevento from Benevento/Russo Duo , Vince Welnick from The Grateful Dead/The Tubes, Mike McGohan from Hello Dave, Dan Moulder from Free Space and Barry Brown from Jack Straw. Mondays will never be the same. Thanks to everyone for their support!!!!
***
When Holly Isbister, a regular contributor for Jambands.com was ranking and submitting her 10 favorite musical experinces from 2004. This is what we found coming in at #3.  Every Monday since May, 2004, Monday Night Open Mic at The Store in Chicago, IL. This one"s a totally self-indulgent choice and aside from my own personal feelings and experience probably doesn"t mean much to you, the reader. But bear with me. I"d like to take a minute to encourage every music fan to go out and find your local open mic, if for no other reason than to appreciate the humble beginnings from which many of your favorite rockers have sprung. It"s a great place to talk music, knock back a few beers, and in the words of The Store"s open mic host and a mighty fine guitar player Rick LaCour. "for those 15 minutes that you"re up on stage, there.s no difference between you and your heroes. Of course, $3 dollar pints can make anyone feel like a hero, but that.s besides the point. Thank you Holly for all the good times and all your support!!! Holly Isbister, Jambands.com  2/4/2005